Here are some recommendations on products used by Dodge City Minis.
---
NuVet Labs
A special dog, deserves a special supplement.
NOTE: This product is NOT available to the general public without an Order Code supplied by your Pet Professional
Not available in stores…
Call Now To Order! 800-474-7044
and use Order Code: 21055
Insider's Secret: Thousands of the nation's top breeders use NuVet Plus® to keep their puppies, kittens, breeding females and males so healthy!

Revolutionary product, affordable– natural, water soluble

GUARANTEED – No sugars or fillers

GUARANTEED – We use real chicken liver – not cooked, but instead it's paddle dried by our patented process to preserve its Omega Fatty Acids

GUARANTEED – not heat treated (heat destroys vitamins A, E & B1) – it's why NuVet Plus wafers crumble easily

GUARANTEED – So pure it's produced in an FDA (human-grade) manufacturing facility  (virtually unheard of in the pet industry because of the high cost / monitoring required)

Our team of Veterinarians, Physicians, Pharmacists, and Nutritional Scientists took eight years to develop this revolutionary product

On the market for over 13 years/ We're one of the oldest US pet supplement companies

MONEY BACK GUARANTEE – Call now to order this revolutionary product. If this isn't the most incredible pet supplement you've ever had, we'll give your money back!
Helps Heal Current Problems – and Protects the Life and Health of Your Pet – Starting Today!
---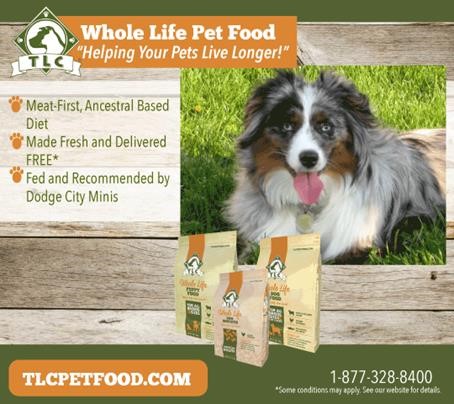 Dodge City Feeds And Recommends TLC Food.
Click On The Link Below To Receive A $5 Off Discount On Your Order.
Benefits you will see from Feeding TLC
Healthier, shinier coat
Strong muscles
Antioxidants to protect against disease
Optimal digestion
Less stool volume
Clear, bright eyes
Happier, healthier pet
Natural protection against allergic reactions and inflammation
Low glycemic formula helps prevent obesity
---
For your pets Oral Health, we recommend PetzLife Oral Care And Brushing Your Pets Teeth Weekly!.

---
Are you looking for agility equipment?
I highly recommend www.AffordableAgility.com
They are affordable, and the website is easy to use!

---
Dodge City Mini's get all their Natural Dog Treats
From Dog Bones Direct