WANTED
For Unconditional Love, Loyalty, and Devotion
Dodge City Mini's is a Miniature American Shepherd hobby breeder concentrating on health and temperament and the written breed standard. We TRY to never have more than 1 litter at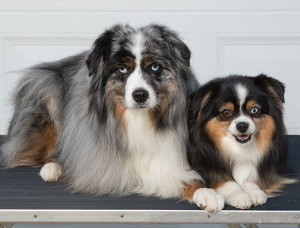 a time so we can give all of our attention to each puppy and parent.
All dogs are tested for hereditary diseases including MDR1 PRA CEA HUU CDDY DM HC & More. OFA HIPS HEARTS & EYES. All dogs are AKC DNA VERIFIED. We register with AKC.

All pups are raised in the home as part of Our family. 

They are handled from day 1 to insure the best temperaments possible. We follow the guide to Raising SuperStar Dogs By Jerry Hope with early neurological stimulation and Puppy Culture exercises along with crate training and grooming started.

We take full responsibility for every puppy we produce and stand behind every dog we breed. These dogs are fun, loyal and full of life and ready to give their heart and souls to their new owners. We are very proud of our puppies and will be available to you for the life of your puppy.
If you are looking for unconditional love and loyalty you will find that here with our puppies.